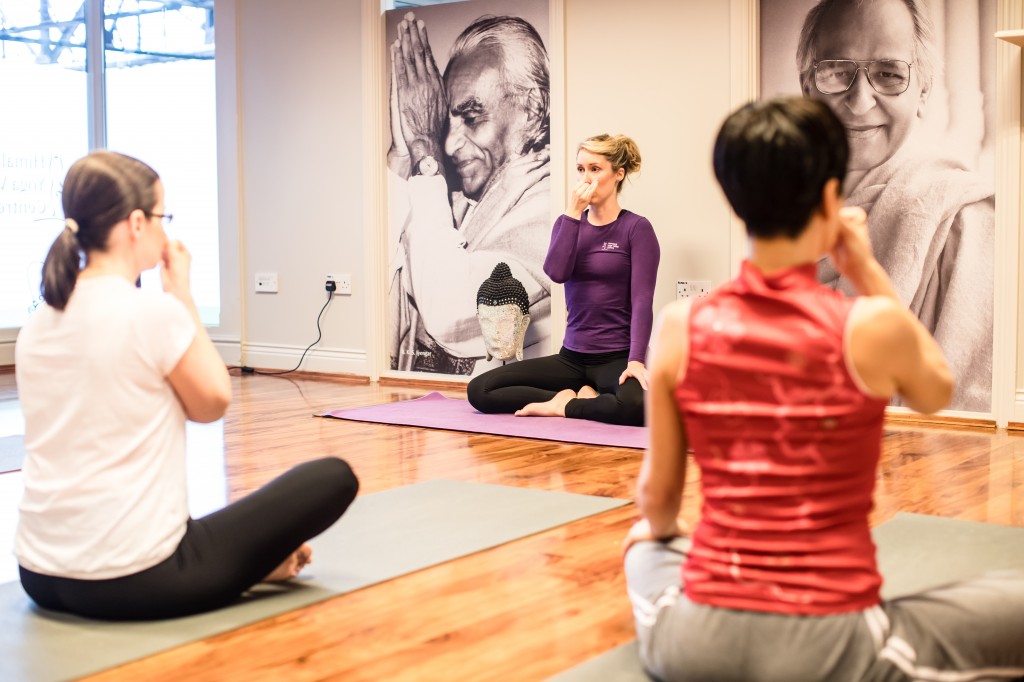 What was your path from practitioner to teacher?
I took up Satyananda yoga about 10 years ago as I had constant back pain that I was hoping to relieve. I remember also wanting to find some mental focus and clarity as I was just out of college and making a lot of big life decisions. It certainly gave me all of things and so much more-I loved it. I had a very inspiring teacher Aoife Kelly who has since moved to America and getting to know her showed me that it was more than just a class, it was a way of life. A way to be a kinder, happier, healthier person by freeing the mind and body of tension and blockages. It was after I went to my first yoga retreat that I started to think about a career in yoga. I had studied and been working in social care so always wanted my work to involve helping people. I kept it to the back of my mind and continued to deepen my own practice and knowledge. Somewhere along the way I discovered Ashtanga yoga and even though I found it extremely challenging I just loved the way it made me feel, so mentally positive and physically strong, my mind never felt clearer, my back never felt better. It gave me more motivation in all aspects of life. I began to research teacher training courses and decided to take up a yearlong night course in massage therapy to get a good understanding of the anatomy of the body first as I didn't feel quite ready. I've known many great teachers who studied yoga teacher training very soon into their yoga journey but I wanted to take a slower approach as my vision was to make a complete career change when the time was right. I chose to study with Lalit and his amazing team at the Himalaya Yoga Valley Centre in Goa, India after taking a few workshops with him in Cork. Choosing that course was one of the best things I've ever done in my life, both on a personal and professional level.
What is your favourite pose and why? Are there any poses that are difficult for you?
Ustrasana is one of my favourite poses, I just love how it feels, I love the stretch across my chest and feeling strong enough to hold myself so comfortably in this pose now, I still remember how difficult I used to find it. Backbends are much more challenging for me than forward bends and hip openers but in a way that makes them my favourite. I love how they make me feel more invigorated and happy, while forcing me to drop the ego.
What's the most important thing yoga has taught you?
Ahimsa
The Yamas are the first limb of Patanjali's Ashtanga Yoga. Yamas deals with our ethical standards and how we conduct ourselves in life. Ahimsa is the first Yama and it means nonviolence. Deeper study of Ahimsa has taught me that it's not only about being a vegetarian and not harming people but to also drop harmful or judgmental thoughts about myself and others too. It takes a lot of practice to change thinking patterns but it's incredibly freeing when it works. Of course, it's an ongoing practice and sometimes a struggle, but not only do I see the best in everyone now, I also subconsciously feel that everyone else is doing the same (I know they're probably not) so I don't feel judged or thought of negatively by others either. It's a much happier and easier way to live life.
How does your own practice fit in?
I try to practice yoga as a way of life by following the Yamas and Niyamas. My main asana practice is Ashtanga but I also love to do a gentle, more restorative practice in the evenings or on certain days of the month. In the summer, I like to practice in the morning before work but in the winter I prefer to sleep in and practice in the afternoons.
What's one of the biggest misconceptions about yoga that you'd like to address?
I have 2:
1)    That yoga is for women – For centuries in India yoga was only practiced by men and when it spread across the western world it was embraced by women, which is wonderful but men seemed to shy away from it. They unfortunately missed out on learning these amazing tools to promote their mental and physical health. Thankfully we're seeing a big change and almost a third of our clients are men who are enjoying the benefits of the practice. And one of the great things about yoga being a non-competitive activity is that families and friends can all practice together, we have classes with brothers and sisters, couples, fathers and daughters, mothers and sons attending together practicing at their own pace.
2)    That yoga is only for the flexible – let's set the spiritual, emotional, mental and physiological benefits aside for a moment and only look at the physical part of the practice. It makes no sense that all the stiff people in the world should just grow old, getting stiffer and stiffer while the people who have a lot of flexibility naturally get to keep doing the splits until they're 95. This is not at all what yoga is about. You might never touch your toes or get your leg behind your head or whatever it is that you think yogis do. So what? The stretches are practiced to release tension, tightness, stress and maybe even pain from the body, resulting in more comfort, mobility, energy, injury prevention and better posture.
 
What's the most memorable thing that's ever happened in your class?
It wasn't during a class but a really lovely couple got engaged on one of my yoga retreats on Heir Island. It was particularly special because they had actually met in Goa while on retreat with Himalaya Yoga Valley. Everyone on our retreat was elated and we all celebrated with them that evening. They even came back to Heir Island last year while expecting their first child! They have a special place in our hearts at HYVC.
 
Any gentle etiquette reminders you'd like to give students?
Remember to take your shoes off before entering the studio and put your phone away on silent.
What advice would you give to someone who wants to take their practice to the next level?
Practice, practice, practice under the guidance of a good teacher. In the west it's quite normal to switch between yoga styles, studios, courses etc. trying to get the broadest insight into the world of yoga. In India it's more common to stick with one teacher/school and practice with consistency. Neither are wrong but I find the Indian method gives more direction and focus and less confusion.
How do you see the future of yoga?
I would love to see it become part of the school curriculum. Now more than ever, children need to detach from their screens and connect to themselves, learn to breath, learn to meditate and move their bodies in a three-dimensional way.
What does a typical day look like for you?
On most days I do split shifts so I have free time in the middle of the day to do my own yoga, walk the dog, cook or meet family or friends. My husband often works evenings too so we try to have a nice breakfast or lunch together.
Favourites:  food, drink, place in Ireland, vacation destination, book, movie, musician?
Favourite food is always changing, especially now that I'm pregnant. At the moment, I love a good sandwich.
Favourite drink is always changing too, probably ginger beer, non-alcoholic at the moment.
Favourite place in Ireland. I can never decide between Heir Island where I run my yoga retreats and Derrynane where my family have a mobile home for many years.
Vacation Destination. Hard to beat my honeymoon in Borneo.
Book. "Half of a Yellow Sun" or anything else by Chimamanda Ngozi Adichie.
Movie. Impossible to pick something current but from childhood it would probably be Father of the Bride
Musician. Damien Rice
What would you like your students to take away with them after a class with you?
A sense of self belief and the ability to stop caring about what other people think.