Click on a workshop to see more info. You can book online for each workshop.
Ayurveda Online Day Retreat
Tune into your Body's own Healing Wisdom
Focusing on Ayurveda and Yoga for dissolving stress and Finding Balance in Times of Change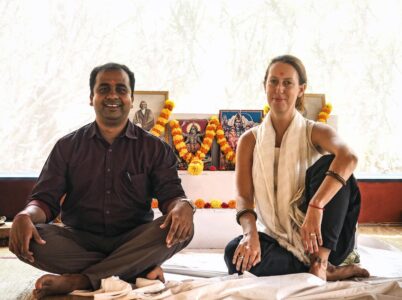 January 23rd, 2022
€75
6 Hour Retreat – Online Yoga Studio
Join us for a day of contemplative practice and conscious lifestyle techniques from the world of Ayurveda and Yoga to dissolve stress and build resilience. The sister sciences of yoga and ayurveda focus on longevity, restoration and inner strength and we know how much stress, anxiety and depression can chip away at this inner resilience.
We will look at our typical stress responses and coping mechanisms. We know how much stress can affect the way we eat and the food we reach for so we want to offer simple techniques so that not only do we not reach for the sugary or salty fix but we understand how those foods exacerbate the issue in our own bodies.
Dr Rohit will also look at how stress affects prana – the nadis and srotas (energy and communication channels in the body).
Similarly in our restorative practices, we want to learn to listen to ourselves – start to trust ourselves. The deeper application of both yoga and ayurveda is self-study (svadhyaya) so we will give time for contemplation and suggest journaling practices.
It is not just our physical body that digests – every day we are digesting our conversations, our experiences, our interactions – processing and digesting with the mind. We will look at Prana and Apana – regenerative life force and eliminatory force; asking ourselves what we can let go of. On a subtle level, asana is not just about physical elimination but a letting go of what no longer serves us.
Autumn is a perfect time to go inside – to listen – and let go of things that no longer serve us (Apana) and we will embrace the yogic concept of Pratyahara (drawing the senses inwards) so we can truly listen to ourselves and re-focus our energy and wisdom inwards.
The restorative practice would be suitable for all body types – with mention of certain postures and breathing techniques being particularly good for certain doshas. There would be some gentle movement as well as longer held poses, breath awareness practices, meditation and yoga nidra.
Full-Day Programme
Our Online workshops are hosted through Zoom and the link is sent to your email before the class, with everything you need to know to prepare!
8.30am – 10am – Embracing Change – Finding Inner Strength Yoga and Meditation
with Viriam
11am – 1pm – Discovering the Wisdom of Ayurveda Lecture focusing on Ways to free ourselves from stress and anxiety and build resilience (short break included)
2pm – 4pm Restorative Ayurvedic Yoga with Yoga Nidra with Viriam
We will also send you a recipe for Masala Chai, a simple lunchtime kichadi and an energy ball – so that you can experiment with ayurvedic concepts in the kitchen.