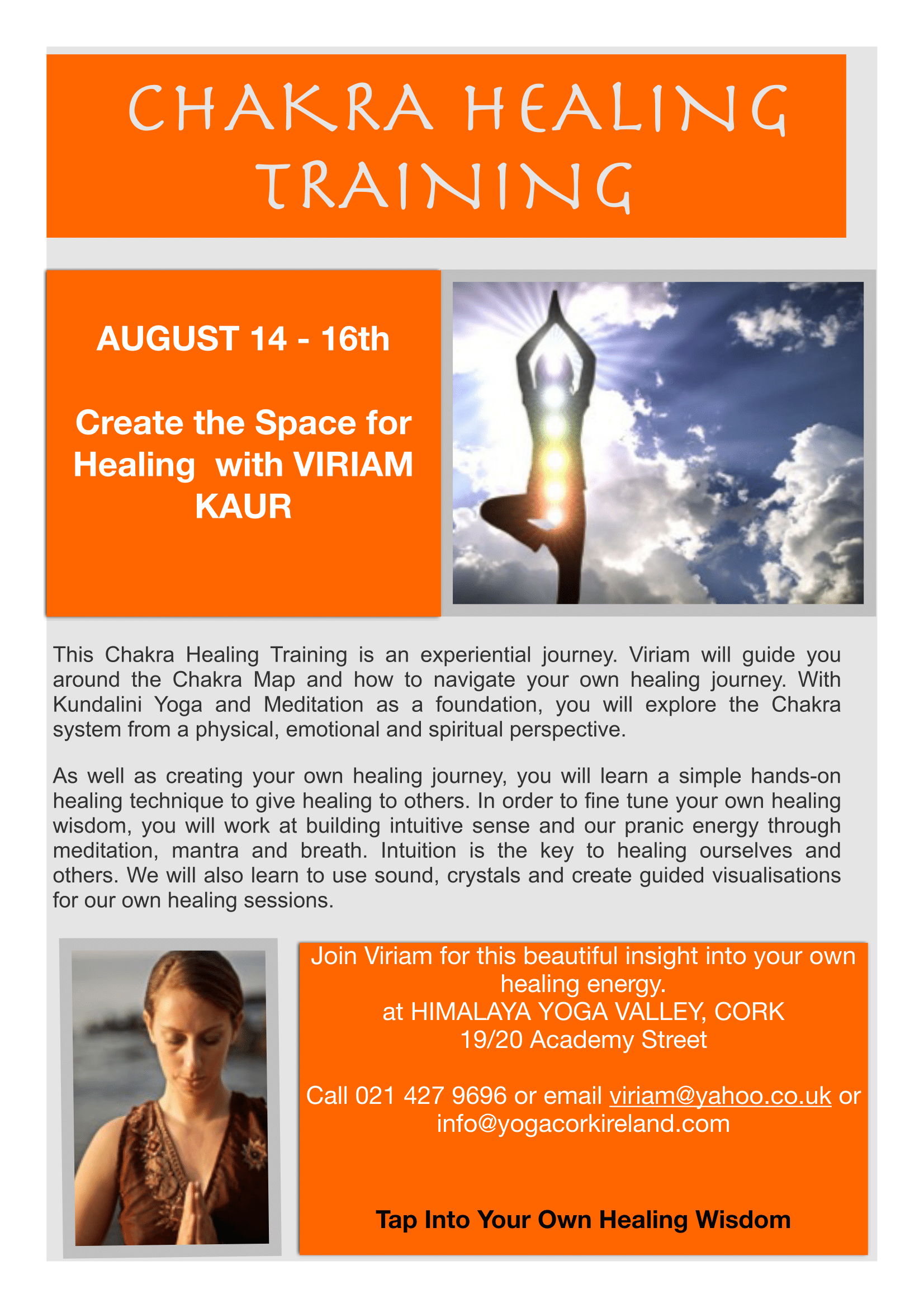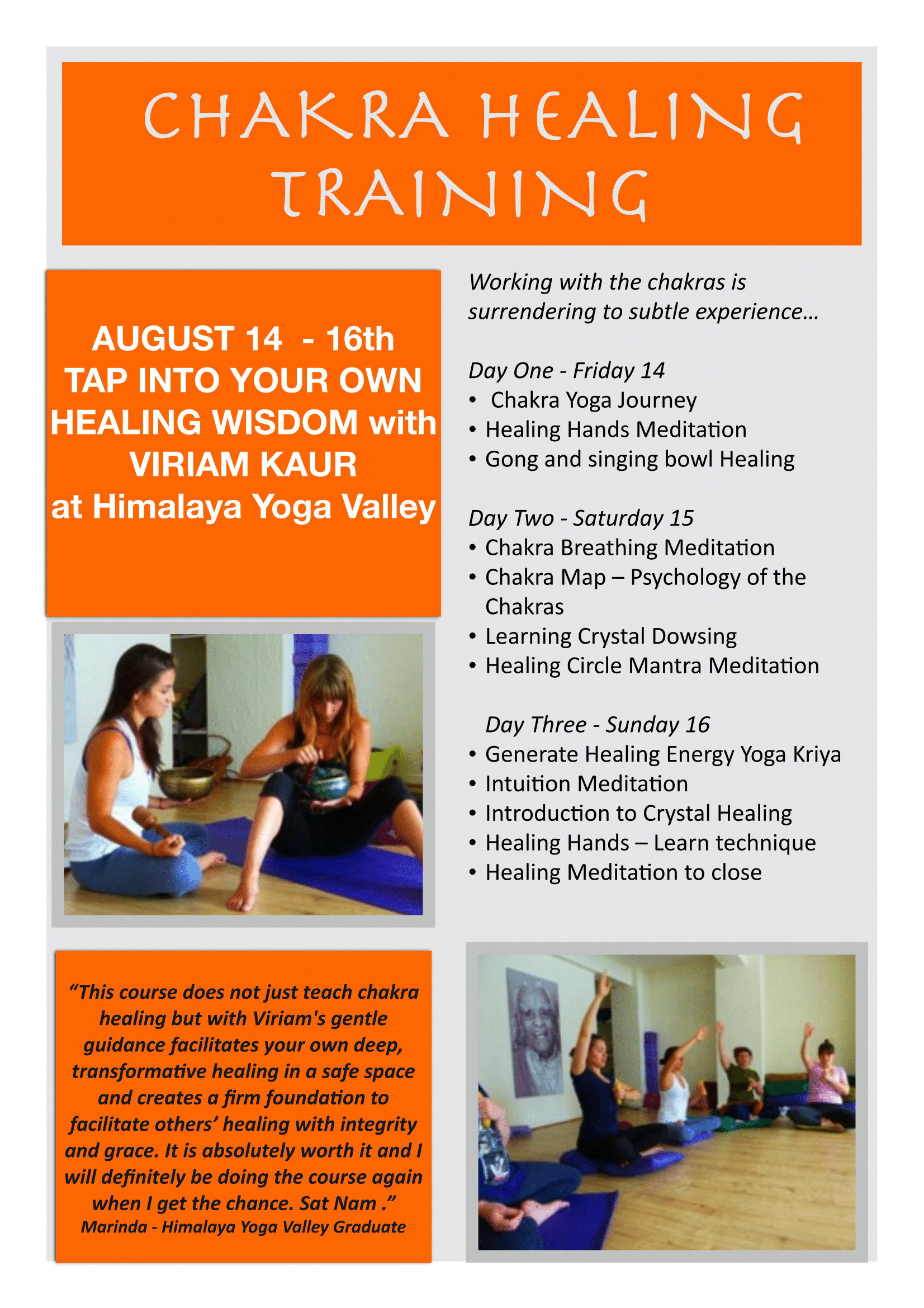 Fri August 14th: 6.30-9pm
Sat August 15th: 4-9pm 
Sun August 16th: 9.30am-6.30pm

A Weekend Intensive Course to Tap into Your Own Healing Wisdom and Learn to Heal Others with Viriam Kaur renowned teacher and healer with over a decade of experience.
Chakra is a Sanskrit word which means wheel. A chakra is a wheel-like spinning vortex that whirls in a circular motion. These Chakras are connected to major organs and glands that influence the health of the body and its systems.
We have seven main chakras each of these chakras are connected to our being on several different levels: physical, emotional, mental and spiritual. On the physical level each chakra governs a main organ or gland. On an esoteric level each Chakra is linked to our spiritual & emotional health- for example our throat Chakra governs our ability to communicate effectively and the health of our thyroid. Through healing the chakras one can develop balance physically, spiritually and emotionally.
Devised by Viriam Kaur, the Chakra Healing technique uses breathwork, visualization, crystals and sound healing. This is an experiential course and we focus on developing an understanding of how energy moves through us, looking at how our emotions and our personalities are influenced by chakra and pranic energy. Yoga and meditation are our mirror, so we will use Kundalini Yoga to develop an understanding of the chakra energy within. As we start to get a tangible sense of chakra energy, we will learn techniques to give healing to others.
This course is practical and hands on in nature. Groups are intimate to ensure personal attention from Viriam and students gain plenty of experiential practice working on each other as both healer and receiver.
About Viriam:
Viriam has been teaching Kundalini Yoga for ten years in London, Goa, the Himalayas and Thailand. She trained with the SKY School of Kundalini Yoga in the UK and has been been running her own centre in Goa for seven years. Viriam is a UK trained and certified Massage Therapist, and specialises in Ayurvedic Yoga Massage and energy healing, having devised her own technique of Chakra Healing. She is Himalaya Yoga Valley's very own Yoga Philosophy teacher and also travels around the world supporting the Himalaya Yoga Valley team.
Viriam works as a journalist and writes regularly for 'ÄėYoga Magazine UK'Äô. More at www.organickarma.co.uk.'ÄúViriam'Äôs teaching taps into the deep nurturing quality of Mother Earth, bringing with it a groundedness, softness and sense of being held. I have always found her work to be infused with beauty, balance, grace and femininity … as well as having a strong foundation of knowledge and skill. Altogether a great recipe for healing!'ÄĚ Amoda, author of Change Your Life, Change Your World
Testimonial 
"I went to Viriam for my first chakra healing session last year with an open mind, not expecting much. I was blown away by the energy that I experienced and by Viriams complete dedication to the session. She was more in tune with the subtle energies in my body than myself and she brought me deeper into that awareness while being completely supportive and respectful. I took her chakra healing course this year and absolutely loved it! Again Viriam was fully dedicated to giving us the best experience possible. The Kundalini yoga that we did on the course was challenging but exactly what we needed to connect with our own healing energy and abilities. We learnt so much on the course and were able to practice healing sessions on each other and get feedback, which gave me the confidence to keep it up after the course.
Viriam, thank you so so much for sharing your gift."
Testimonial by Lisa Fahy teacher at Himalaya Yoga Valley and Chakra Healing graduate July 2012
Price: 'ā¨185 including 13.5% VAT
Training spaces are limited to ensure quality. Early booking is advised.