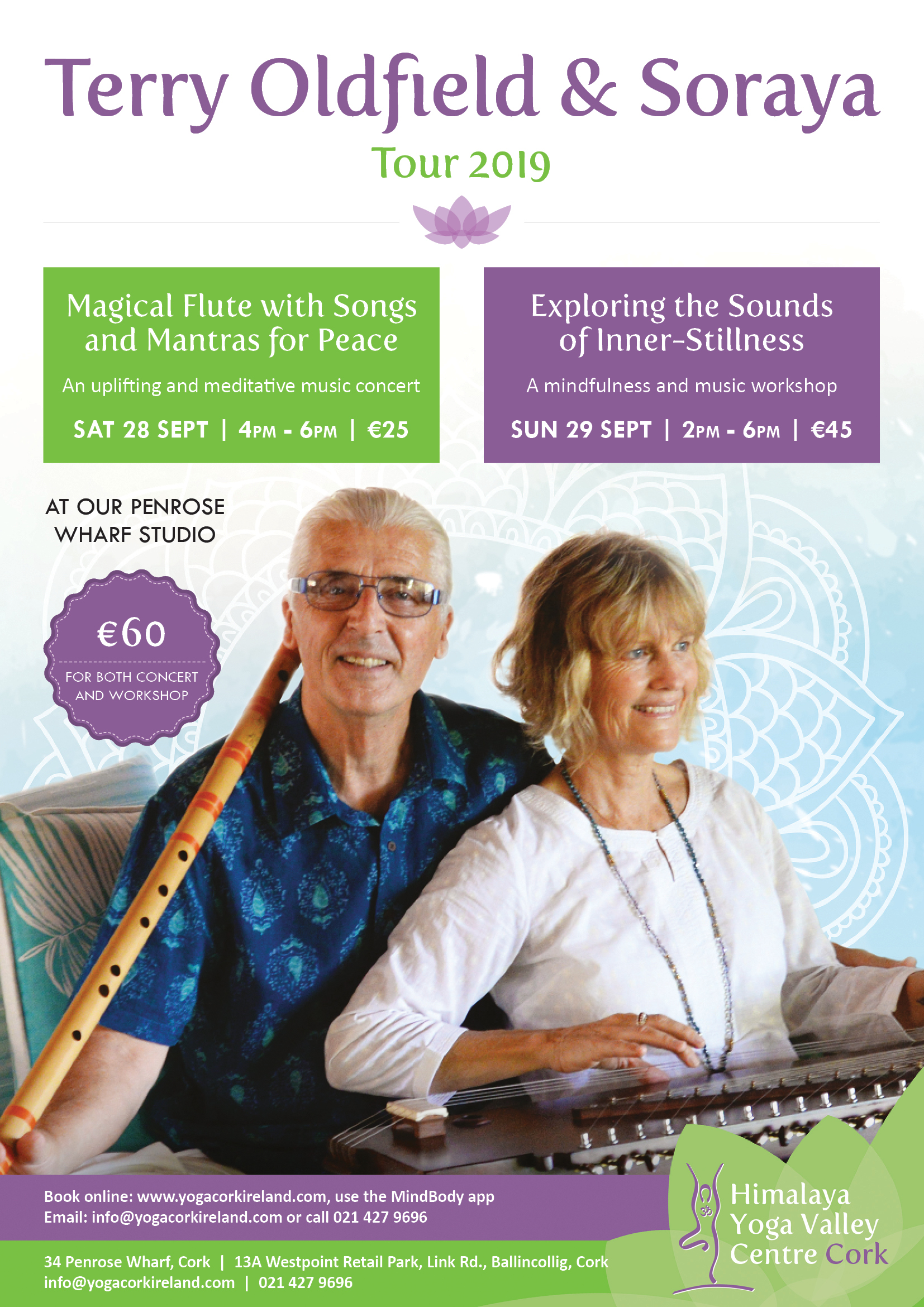 Join Terry Oldfield & Soraya this September in Penrose Wharf for two exciting events;a meditative music concert and mindfulness and music workshop.
Terry Oldfield & Soraya "Magical Flute with Songs and Mantras for Peace
Location:Penrose Wharf
Date & Time: Saturday 28th September 4pm-6pm
An uplifting and meditative music concert.
Terry Oldfield has been enchanting fans with his soul-stirring music for over 30 years. His unique style of flute playing and musical composition touches the heart and soothes the mind. Spiritual mentor Soraya joins Terry with her moving vocals and love of ancient chant. Together they travel globally bringing songs from different cultures together to create a vibration of peace and encourage inclusivity of all as one.
Attendees will be sitting on cushions and bolsters on the floor for this intimate and meditative experience. Please contact our office directly at info@yogacorkireland.com or 021 4279696 if you require a chair for this event.*
Concert price: €25
Concert and Workshop price: €60*

Terry Oldfield & Soraya "Exploring The Sounds of Inner-Stillness
Location: Penrose Wharf
Date & Time: Sunday, 29th September 2pm-6pm
A mindfulness and music workshop.
Music goes beyond words to where the heart sings in the centre of this eternal moment.
Mindfulness enhances grounded presence with calm and clarity. Old patterns based on resistance and fear begin to fall away as a sense of inner peace arises.
Through breath, meditation, movement, mantra singing and music Soraya Saraswati and Terry Oldfield offer a nourishing day of deep peace.
Workshop price: €45
Concert and Workshop price: €60*
*If purchasing both Saturday and Sunday, use DISCOUNT CODE: TERRY19 for Workshop "Exploring the Sounds of Inner Stillness" for discounted rate.
*Workshop fee is transferable if cancelled at least 24h beforehand, but non-refundable.
Book now through the schedule and bookings section, on the MINDBODY app or call 021-4279696.