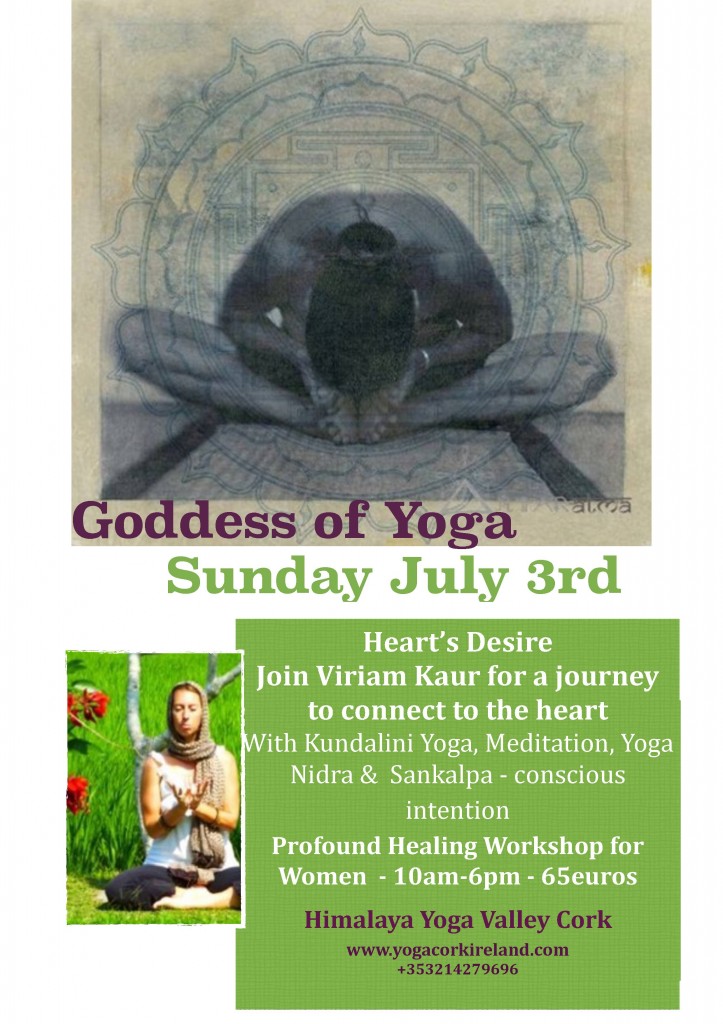 Goddess of Yoga with Viriam Kaur

Sunday July 3rd  10am – 6pm
Workshop fee: €65

Connecting to our Heart's Desire – Sankalpa
In our morning session, we will work with Kundalini Yoga and meditation to remove blocks and limiting beliefs – Yoga as an un-doing – a clearing away. When we clear away, we create space to again connect to the joy of our heart.
In our afternoon session, we will delve deeper into our heart's connection with meditation, mantra, sankalpa and yoga nidra. Sankalpa is our heart's intention – a more profound version of a New Year's Resolution – we will work to go beyond any limiting language we use and create a conscious affirmation – Sankalpa. We will use meditation to take us into a place where we can listen and be reminded of our heart's desire, we will work at creating our Sankalpa and then in the sacred space of yoga nidra, a state of profound relaxation and clarity, we will implant this conscious intention into our being.
"An intention introduces focus, not limitation. It should awaken and open you to the possibility of revelation and surprises. Yoga has been since earliest times a spiritual practice by which we can attain greater spiritual self-awareness. Discoveries and insights come as unexpected gifts, as moments of grace." Doug Keller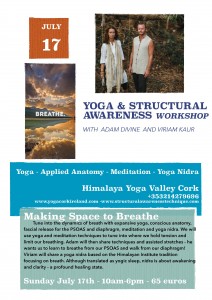 Yoga and Strutural Awareness Workshop with Adam Divine and Viriam Kaur
Sunday 17th July, 10am-6pm
Workshop fee: €65
Tune into the dynamics of breath with expansive yoga, conscious anatomy, fascial release for the PSOAS and diaphragm, meditation and yoga nidra. We will use yoga and meditation techniques to tune into where we hold tension and limit our breathing. Adam will then share techniques and assisted stretches to open us up and create space to breathe fully – he wants us to learn to breathe from our PSOAS and walk from our diaphragm! Viriam will share a yoga nidra based on the Himalayan Institute tradition focusing on breath for integration. Although translated as yogic sleep, nidra is about awakening and clarity – a profound healing state.
Adam Divine is the anatomy teacher on Himalaya Yoga Valley Teacher Trainings and has been working as a massage therapist and body mechanic for 12 years. Since being gifted the Anatomy Trains book ten years ago, he has trained with James Earls on Anatomy Trains courses and has studied with osteopaths and breathwork practitioners. He specializes in body reading, therapeutic bodywork and myofascial release. He has lived in India for over ten years and plays music with Viriam as part of their band Mantrica. Check him out at www.structuralawarenesstechnique.com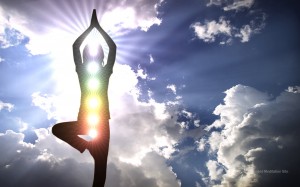 Chakra Healing Training with Viriam  Kaur

Friday 5th August: 6.30-9pm

Saturday 6th August: 4-9pm 
Sunday 7th August: 9.30am-6.30pm
Workshop fee:  €190

Join Viriam Kaur for an experiential journey through the Chakras. Viriam will guide you around the Chakra Map and how to navigate your own healing journey. With Kundalini Yoga and Meditation as a foundation, you will explore the Chakra system from a physical, emotional and spiritual perspective.
As well as creating your own healing journey, you will learn a simple hands-on healing technique to give healing to others. In order to fine tune your own healing wisdom, you will work at building intuitive sense and our pranic energy through meditation, mantra and breath. Intuition is the key to healing ourselves and others.
We will also learn to use sound, crystals and create guided visualisations for our own healing sessions. Viriam will also share the profound healing and clarity of yoga nidra. On completion of the course, you will receive a manual and certificate.
Viriam's Bio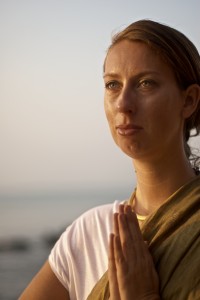 Viriam Kaur is a yoga teacher and writer who has lived in India for the last eleven years. She trained with the UK with SKY School of Kundalini Yoga in 2003 and teaches around the world. She also teaches Yoga Philosophy on an International teacher training and has devised her own Chakra Healing technique running regular trainings. Viriam also works with breath and the healing power of yoga nidra. She has just released an album of sacred mantra with her band Mantrica.
For more information, please visit www.kundaliniyogaindia.com and www.mantricamusic.com