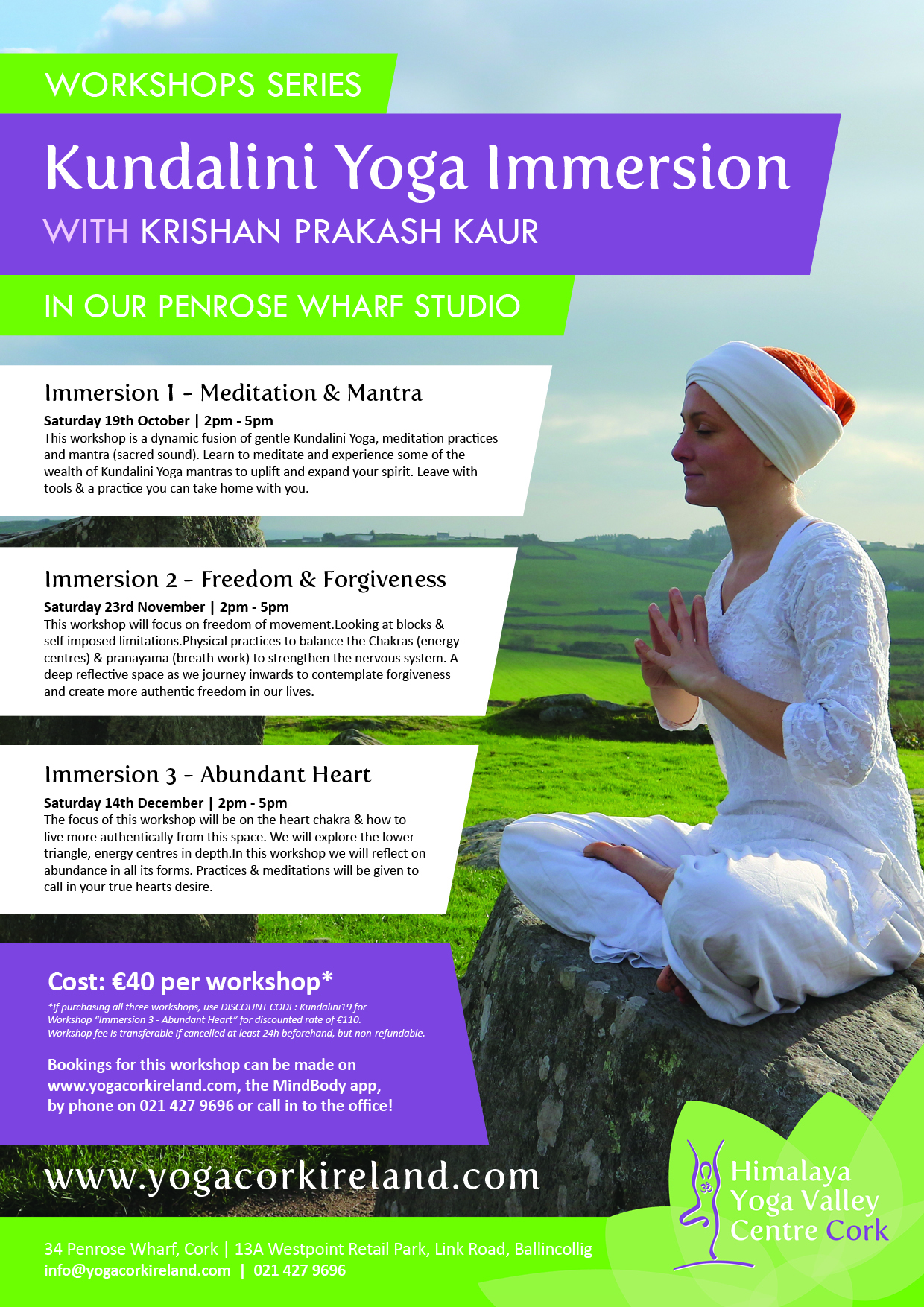 Kundalini Yoga is a dynamic practice and works on all the levels of the being, the physical, spiritual and the emotional.
Join Krishan in our Penrose Wharf centre this autumn/winter for a series of workshops where you will explore and deepen your Kundalini practice. These are stand alone workshops in their own right, but there will be a thread running through each workshop, which we will deepen over the course of the three Immersions.
Workshop 1
Kundalini Yoga Immersion – Meditation & Mantra
Date & Time: Saturday October 19th, 2.00pm- 5.00pm
In this Meditation & Mantra Workshop we will begin by doing some gentle yoga and Kundalini Yoga 'Kriyas' (a sequences of postures within a set to create specific results) to open up all the chakras and to stretch the body, so we can then move more easily into our meditation practice. We will explore some of the wealth of Kundalini Yoga mantras in this workshop.
This workshop will help to expand and stretch yourself and will ignite that spark from within, setting seeds that will grow and flourish into our future.
Workshop 2
Kundalini Yoga Immersion – Freedom & Forgiveness
Date & Time: Saturday November 23rd, 2.00pm- 5.00pm
In this workshop we will focus on freedom of movement and expression through our Kundalini Yoga practice. A deep meditation practice of forgiveness and self acceptance, kriyas to open up the chakras (energy systems) helping to release the issues which are stuck in the tissues and breath work (pranayamas) to open up to the space and to strengthen the nervous system.
Workshop 3
Kundalini Yoga Immersion- Abundant Heart
Date & Time: Saturday December 14th, 2.00pm- 5.00pm
The focus of this workshop will be on the Heart Chakra and how to live more authentically from this space. We will explore physical practices, look at abundance in all forms, do meditations and have space for discussions while cultivating strength in our chakras.
All workshops are suitable for all levels and for the complete beginner. Individual cost per workshop is €40.
*If purchasing all three Kundalini Immersion workshops, use DISCOUNT CODE: Kundalini19 for Workshop "Kundalini Yoga Immersion – Abundant Heart" for discounted rate of €110.
Book or website, download the MINDBODY app or call us on (021) 4279696.