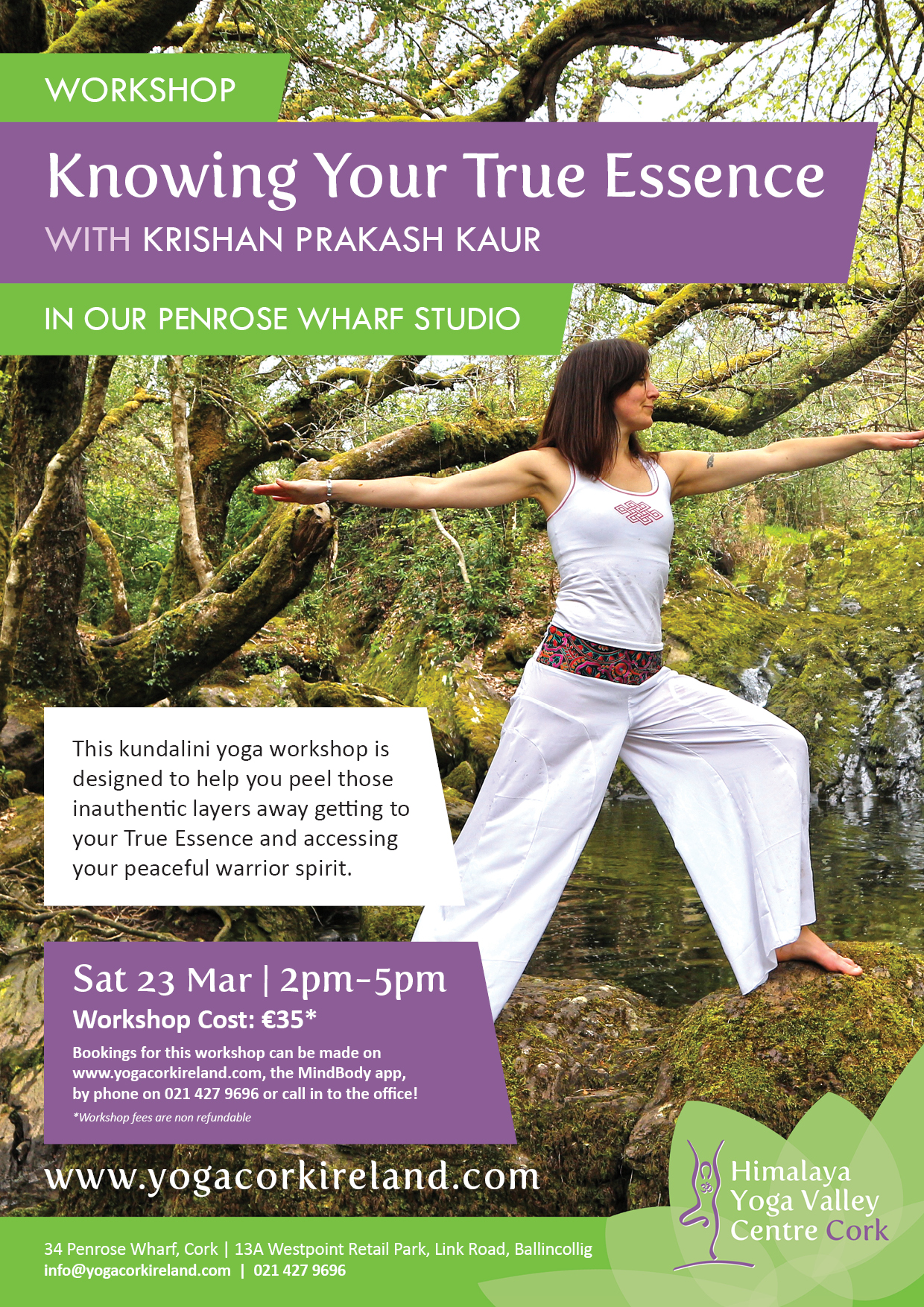 'Knowing Your True Essence' Kundalini Yoga Workshop With Krishan Prakash Kaur
23rd of March from 14:00-17:00,
Himalaya Yoga Valley Centre,
Penrose Wharf
Yogi Bhajan who brought Kundalini Yoga to the West in 1969 talked at length about the times we are currently living in, the demands on our psyche, the overload of information, the great disconnect and how these stresses would greatly impact our nervous system and mental health.
Kundalini Yoga is a fire yoga and it can go quite
deep helping you to truly meet yourself on your mat.
Yogi Bhajan Quote: " We are at a crucial change of the time—a change of an Age. The basic sensitivity of people to their own psyche and to each other is shifting.
Now we must all experience and know our own mind so we can choose to act in an elevated and effective way".
This workshop is designed to help you peel those inauthentic layers away getting to your True Essence. To put aside your expectations and demands on life and to replace them with neutral anticipation and childlike curiosity.
For you to learn to live your life in gratitude and to cultivate healthy habits. Learning to peel away the layers
of other peoples opinions and beliefs that are inauthentic to your own soul and experience. Helping you to put aside your doubts and to see your own unique talents and gifts and learning to be still, connecting deep within where all answers lie.
This workshop will polish those soul qualities and give space for your true essence to shine.We will be doing physical practices (kriyas) to open up the chakras (energy systems) helping to release the issues which are stuck in the tissue.
We will do breath work (pranayamas) to open up to the space and strengthen the nervous system. You will leave this workshop with tools and meditations to aid you in your
daily life.
Give yourself this space to dive in, to go deep and to give yourself permission to truly shine.
This workshop is open to all levels and the complete beginner.
Workshop price:€35*
*Workshop fee is transferable if cancelled at least 24h beforehand, but non-refundable.
Book now through our website, on the MindBody App or call us on 0214279696.