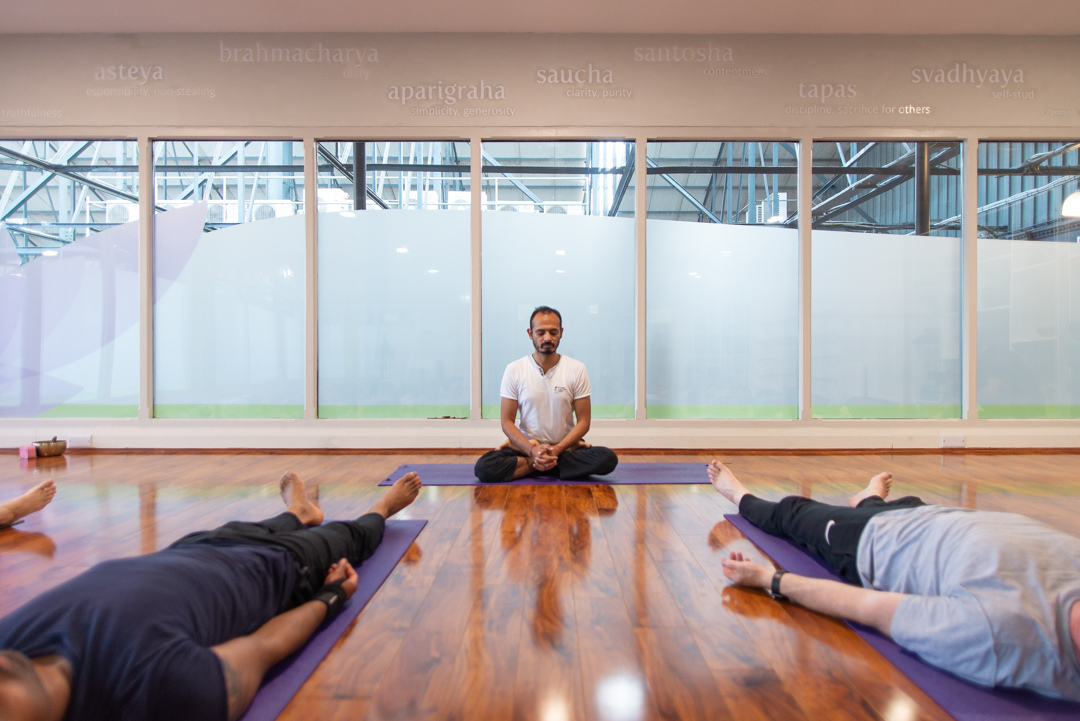 Dear Clients,
Thank you all for your support during these difficult months. Our whole reason to exist as a school is to promote health and wellbeing. For nearly a decade we have been working to improve the lives of people in Cork to boost their physical and mental health. On a few occasions over the last few months we were set to reopen, however during the planning phase to do so we were conflicted about safety and decided to postpone reopening more than once.  
At present, we feel that it would be irresponsible to bring people together, many times a day to gather in an enclosed space without the use of masks where there is a focus on deep breathing. Even at 2 meters apart we feel that the potential risk is too much for our clients and to our team. We know from recent developments that numbers are rising in Ireland as is the reproduction rate. Ethically we simply can't reopen and potentially put anyone in harm's way.
Obviously, for us as a company, it makes business sense to reopen, to clear the class credits of our clients, and to generate some income and to re-employ our teaching team. We have the space, we have the team, on paper we have everything we need to restart our business- but it just does not sit right with us. We simply can't compromise on our personal and business ethics right now. We have not opened yet, for the same reason that we were one of the first businesses to close in Cork when the pandemic hit. We will always want to put our community first. 
We have had our doors closed for nearly 6 months now and the cost of keeping the company going so we could pivot online and keep providing for our students has been significant. We provided free online yoga classes every day to thousands of people for 8 weeks in our community and we are so proud of the peace and comfort it brought to so many during the first 2 months of the pandemic. We then launched our online studio with accessibility and affordability at the heart of our vision. We are really proud of everything we have done since we have been forced to close our doors.
Alongside that feeling of pride is the sadness we have felt seeing everything we have built come to a close in Cork city, Ballincollig, and Goa overnight. It has been heartbreaking for all of our team. We know it has been hard on our clients too, we know the sanctuary that our spaces provided for people since we first opened in Academy St and we feel that loss the most. We are especially conscious of our vulnerable clients who need us more than ever, for those who have faced the loss of health or loved ones and for our charity partners too who have really lost out since we could not run our Seva fundraising programs.
In terms of our future, we will be reopening our Ballincollig studio when the rest of the country is deemed safe to fully reopen by NPHET and move into phase 4. We want to be absolutely sure that we will be opening at the maximum limits of safety rather than for business reasons. We have a very large space in Ballincollig that can accommodate social distancing and our low price model and safety for our clients and teachers. 
Sadly, we will not be reopening our Penrose Wharf location. It would be impossible for us to sustain or retain a space in the city center when we are not operational until the country reopened. Even if we could, it would be completely unfeasible for us to reopen in that location with more than 65% of our capacity gone. We have always operated at a high capacity of volume to make our low prices a reality, and without that capacity, our pricing model would simply not work. We would be going from a capacity of 35 people to 13 people in our large studio and from 20 people to 6 people in our smaller studio. No amount of classes would be able to see us break even in this scenario with city center rents and rates, and a large team to sustain. We do not want to put our prices up. We have always been centered on accessibility and socio-economic diversity. 
We will work hard to retain our premises in Ballincollig even with our doors closed so that we have a physical space to return to and we will also work on getting a larger space in the city that will accommodate the new normal of social distancing and support our pricing model when the time is right to return. 
None of these decisions have been easy to make, sometimes the right thing to do feels like the hardest thing to do. This is the right thing for us to do. This time will pass but our choices will stay with us. We would also like to share our support with other businesses in our industry who are reopening. Each situation is completely different and each business owner must make the choices that are best for themselves and their own clients. We are unique and so are our set of circumstances. People have been hit so very hard by this pandemic, and this time is also a chance for people to rebuild while they can if they personally feel it is safe to do so. We wish everyone reopening the very best.
We are wishing everyone else in our business community the best of luck with their own ventures and reopening. And we want to share our sympathies with those who have not been able to do so.
We want to thank all of our clients who attended our city center location for their unending support. As much as you gained from being our students in that location, we gained from being your teachers. We want to thank our team who worked in the city center studio with us for their love and support too over the years. Your dedication to Himalaya Yoga Valley and our clients has been outstanding. One day we will all rush around a busy studio again, we will see the smiling faces of our clients and we will be smiling too because we will all be back doing what we love.
 
This is an extremely hard time for all of us as a team and for our family. We appreciate your support and understanding. So often we remind our students about the depth and history of yoga. Yoga has existed for thousands of years before us and will exist for thousands after us. We all still have yoga, our doors may be closed but hopefully, if we have done a good enough job as teachers, you will be able to access your personal practise yourselves for now or you will join us online. 
Thank you all once again for coming to our studios, for supporting our fundraising and community projects and for welcoming us all the way from the Himalayas to Cork when we arrived here from India 9 years ago. As a family business, we were embraced as part of the family in Cork. We look forward to continuing the journey with you in the future. 
Our Founding Director Lalit in particular would like to thank all of his students and our teachers for their years of dedication and practise. He has chosen a quote from one of his own teachers in India to share with you in the hope that you will carry on practicing until we meet again. You will no doubt have seen this on our walls in the studio. It's a favorite of ours because it is a reminder that through all of the impermanence in life, we always have the light of yoga to guide us. 
"Yoga is a light, which once lit will never dim. The better your practice, the brighter your flame." ― B.K.S Iyengar
Stay safe and well. 
We hope you will join us online or in Ballincollig when we reopen. If you can, please support us during this time by transferring your existing classes from your pass to our online classes or for use when we reopen in Ballincollig. We want to come back into our community when this awful phase in our collective history is over.
For now, we will continue to serve our yoga community online. It is a wonderful new blossoming that we are so proud to lead and we plan on growing that offering with the usual integrity and effort our clients have come to expect.   
Our team are on the webchat here on our website and emails as usual if you need to get in touch with us.
We look forward to being back with our clients as soon as possible. 
Yours in Yoga,
Eveanna 
On Behalf of The Himalaya Yoga Valley Team