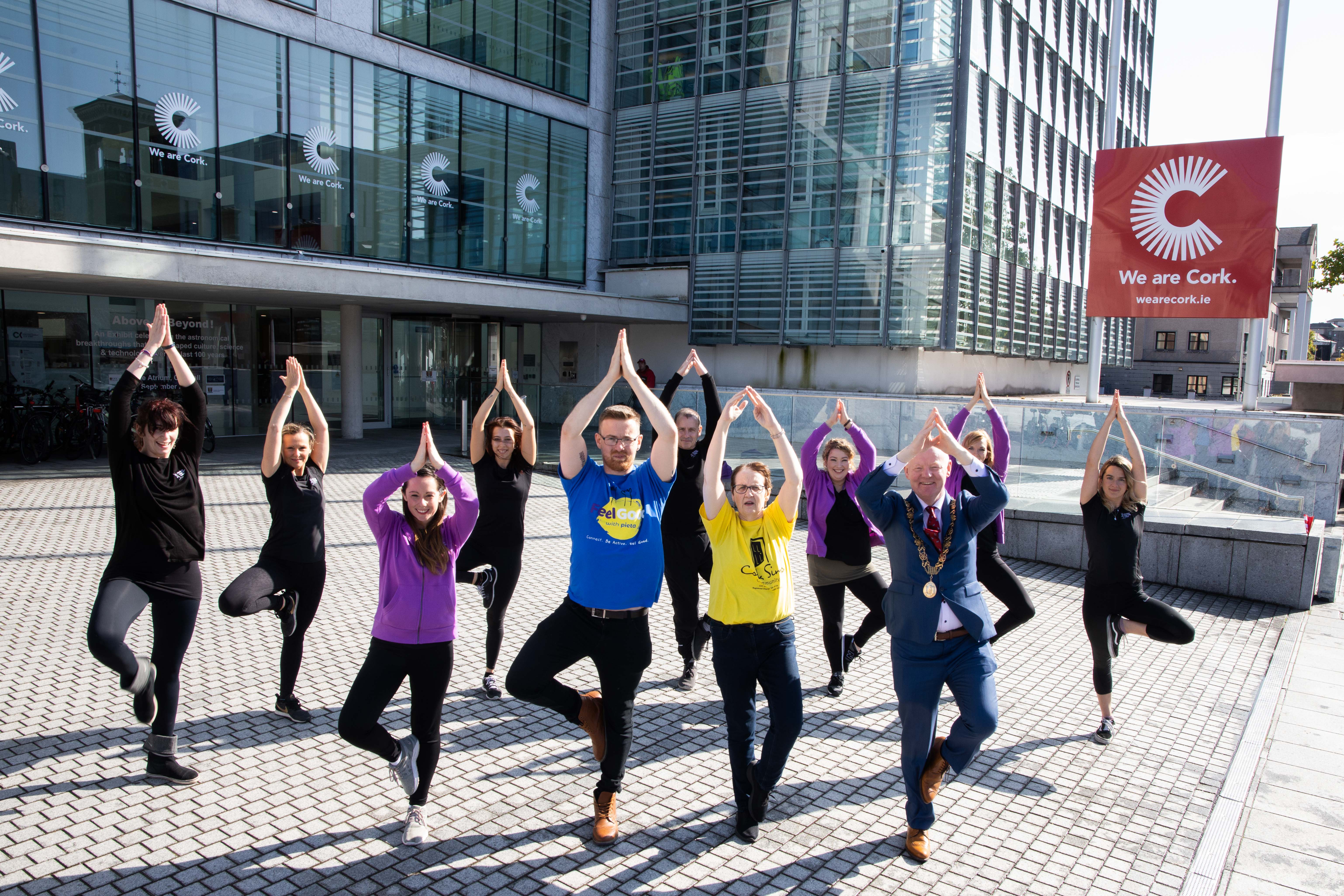 Yoga in the Park, one of Cork's most popular outdoor weekly events has come to an end for another year and once again the event has been a huge success! Yoga in the Park is an award winning community initiative which is organised by the team here at Himalaya Yoga Valley Cork.
We were thrilled to hand over €16,710 to our two chosen charities Cork Simon Community and Pieta House which were the full proceeds of all the donations made over the Summer months by the yogis of Cork. €10,395 was presented to the Cork Simon Community which were the proceeds from Yoga in the Park at Fitzgerald's Park and €6,315 to Pieta House which were the proceeds from Yoga in the Park at Regional Park Ballincollig.
Himalaya Yoga Valley was founded by expert teacher Lalit Kumar who has been practicing yoga since the age of seven at traditional schools in India. A big part of the tradition of Yoga in India is called Seva which means to give back which is why the team at Himalaya Yoga Valley are passionate about giving back to Cork through Yoga in the Park which has raised over €76,000 for local charities over the last 6 years. Yoga in the Park brings the whole community together to help those in need. It is a donation based yoga class open to all members of the community which started in Fitzgerald's Park in 2014 to raise money for the Cork Simon Community and over the last six years €62,042 has been raised for the homeless in Cork.
Dermot Kavanagh, Director of Cork Simon Community said
"The support and commitment from Himalaya Yoga Valley and from each person who gave so generously at Yoga in the Park represents Cork at its best – a community coming together in support of people who are less fortunate. Every cent raised represents compassion and solidarity for people who are homeless and vulnerable. it is only with this kind of support from the wider community that we are able to continue to provide our services for the increasing number of people turning to us for help."
After opening our second studio in Ballincollig in 2017, Himalaya Yoga Valley expanded Yoga in the Park to the Regional Park Ballincollig last Summer with the event now raising raising €14,715 for Pieta House. Every Saturday morning from June-September, hundreds of yoga enthusiasts and novices were stretching their hearts for charity for those in need. The event promotes well-being in Cork and has started many people off on their yoga journey.
"Kieran Brady Director of Funding & Advocacy, Pieta House said "Pieta would like to extend our heartfelt thanks and gratitude for the generous donation and continued support from Himalaya Yoga Valley. Yoga in the Park is a really rewarding and beneficial Corporate Social Responsibility Initiative for all involved. The funds received will help us provide our nationwide services which are free of charge and freely available therapeutic services to people who are in suicidal distress, those who engage in self-harm and those who are bereaved by suicide".
Marion Courtney Business Manager at Himalaya Yoga Valley Cork said 'Our whole team are passionate about yoga and wellbeing and making a difference in our local community. Our partnership with the Cork City Council, Cork Simon Community and Pieta House is so important for the success of this initiative and we are grateful to each of them, our loyal clients and the people of Cork for their continued support'. For more information on Himalaya Yoga Valley see www.yogacorkireland.com