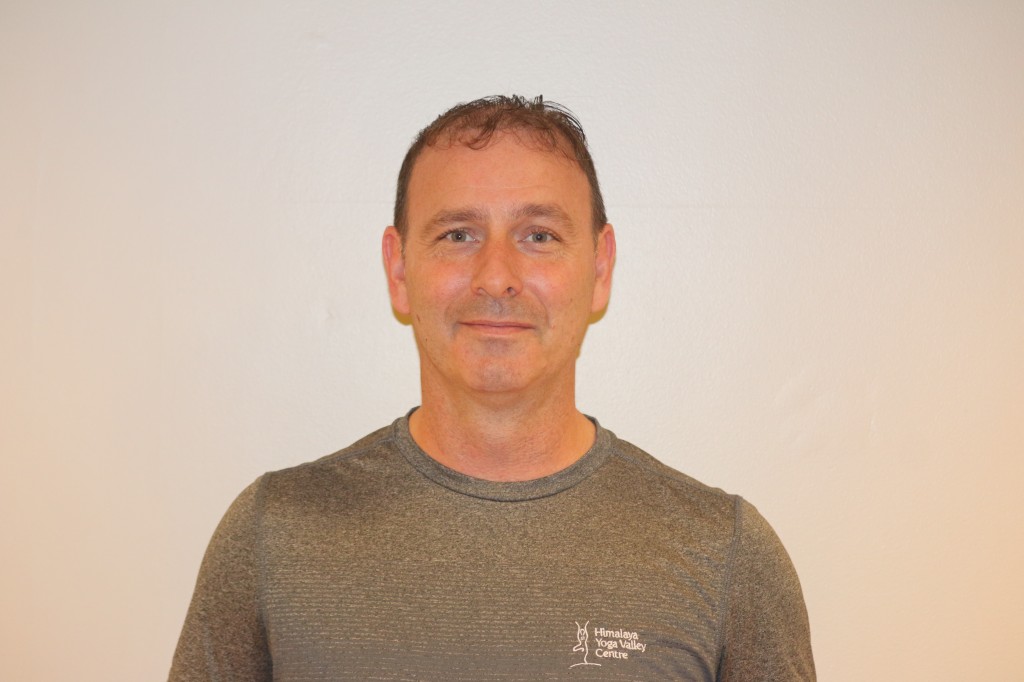 Jim Daly is a Sergeant in the Irish Defence Forces, where he has worked for 22 years.   He travelled to Goa in 2013 to complete the Himalaya Yoga Valley Centre Teacher Training and since then, he has taught in a variety of settings including the Irish Defence Forces and the Slí Eile Farm Project where he is a voluntary teacher.  He has been teaching classes at Himalaya Yoga Valley Cork for the past year.  Jim teaches Bridge to Peak Flow and Restore & Revive on Wednesday evenings and New Beginnings Level 2, Gentle Glow and Bridge to Peak every third Sunday.
What was your path from practitioner to teacher?
My path was a short one, I was only practicing yoga for about a year and a half when I started my Teacher Training.  Yoga was an instant love for me, I went to class every day, I became immersed in learning about the anatomy of poses, benefits etc. While overseas with the United Nations in 2013 I developed my self-practice and started leading classes for military personnel from a range of countries. The feedback on how yoga was influencing these soldiers, both physically and mentally, sealed my decision to teach.
What is your favourite pose and why?
My favourite pose is Bakasana (Crow Pose), it takes some strength and balance yet it still looks graceful.
What's the most important thing yoga has taught you?
Yoga has taught me how to be flexible, and I don't mean in anatomical terms. Your practice can change from day to day, some days you may be sore or tired and on those days you have to respect yourself and modify/adapt where it's needed, be flexible in your practice.
How does your own practice fit in?
Getting my own practice in every day can honestly be a challenge.  Like most of us, I have plenty of work and family commitments so if I don't have the time for a full practice on a day I just do five rounds of sun salutations A and B.
What's one of the biggest misconceptions about yoga that you'd like to address?
"You have to be flexible to do yoga".  No you don't, you just have to get on your mat!  It's not about being flexible or strong or touching your toes, it's about the journey on the way down – that sense of calmness in your whole being after practising.  It's about that time on your mat where you turn your practice into a moving meditation.
What's the most memorable thing that's ever happened in your class?
There are many, and most are from seeing students nailing that pose that has been so challenging for them for weeks or months, seeing that little grin on their face with what I can only presume are words running around in their mind saying "hell yeah, what's next".