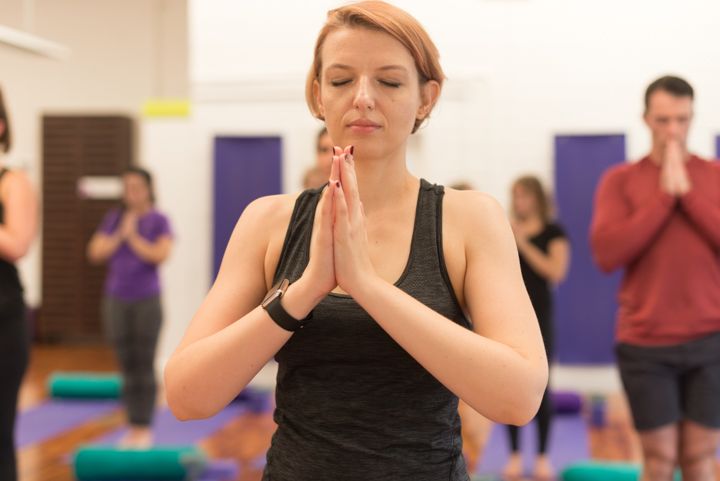 Embrace the Life-Transforming Potential of Yoga at Our Inclusive Studio: From Gentle Beginner Courses to Dynamic Mixed Level Flows, We Have a Class for Every Body and Every Mindset
For many people, the idea of yoga brings to mind images of contorting their bodies into impossible positions. They might picture a serene studio where toned individuals gracefully flow from one pose to the next. However, the reality is that yoga is accessible to everyone, regardless of age, size, or mobility level.

At our Ballincollig studio, we offer a range of classes designed to meet the needs of our diverse yoga students. We understand that everyone has different reasons for seeking out yoga, and we strive to create an environment that is welcoming, inclusive, and empowering.

Monday evenings at 6:45 pm, Mary leads our Beginners Yoga Fundamentals course. This six-week program offers a gentle introduction to the foundational poses of yoga. Mary is a skilled instructor who takes the time to explain each posture in detail, ensuring that students feel confident and supported every step of the way. Many of our beginners come to us seeking relief from chronic pain, stiffness, or stress. This course is designed to help them build strength, flexibility, and balance, while also cultivating a greater sense of calm and mindfulness.

On Tuesday evenings at 6:45 pm, Lisa teaches our Strong and Slow Intermediate class. For those who have been practicing yoga for a while and are ready to take their practice a little deeper, this class is the perfect choice. Lisa is a highly experienced teacher who has a deep understanding of yoga anatomy and alignment. Her expert guidance allows students to extend their limits safely and effectively, building strength, stamina, and flexibility. This class is particularly beneficial for those needing to heal injuries or chronic conditions, as Lisa is adept at modifying poses to suit individual needs.

Wednesday evenings at 8 pm, Bernadette leads our Yin Yoga class. This practice is all about slowing down and finding stillness within. Unlike more vigorous styles of yoga, Yin involves holding poses for several minutes at a time, allowing the body to release tension and the mind to quieten. Bernadette is a gifted teacher who creates a soothing atmosphere in the studio, using props such as blankets, bolsters, and blocks to support students' bodies in each pose. This class is ideal for anyone who wants to reduce stress, improve flexibility, and cultivate a greater sense of awareness and acceptance.

Thursday evenings at 8:15 pm, Gillian teaches our Beginners' Yoga class. Like Mary's course on Monday nights, this class is designed for those who are new to yoga or prefer a slower-paced practice. Gillian is a warm and encouraging teacher who strives to make everyone feel welcome and at ease. Her classes focus on building strength, improving balance, and developing flexibility, while also incorporating elements of meditation and mindfulness. Many of our new to yoga students find that this class helps them feel calmer and more at ease with their body and mind, as well as overcome physical challenges.

Friday evenings at 7:30 pm, Jim leads our Restful Yin and Yoga Nidra class. This class is all about relaxation and rejuvenation. Jim is a gifted teacher who has a deep understanding of the mind-body connection. He guides students through a series of gentle yin poses, followed by a guided meditation known as Yoga Nidra. This practice is deeply restorative and can help to alleviate stress, anxiety, and insomnia. Many of our students come to this class seeking relief from chronic pain, work burnout, or emotional turmoil.

Saturday mornings at 10:15 am, Jim teaches our Mixed Level Flow Yoga class. This dynamic practice is suitable for students of all levels, from beginners to advanced practitioners. Jim is a skilled teacher who uses creative sequencing to challenge students' bodies and minds. This class is great for those who want to build strength, increase flexibility, and develop mindfulness. Many of our students use this class as a way to kickstart their weekends and set positive intentions for the week ahead.

Finally, on Sunday mornings at 11:30 am, Madeleine leads our Gentle Glow class. This practice is specifically designed for those who want a slower-paced, more restorative yoga experience. Madeleine is a compassionate teacher who tailors each class to the needs of her students. Her classes focus on gentle movement, deep breathing, and meditation, all designed to promote relaxation and well-being. This class is perfect for anyone who wants to unwind after a hectic week, or who is looking to alleviate chronic pain or stress-related conditions.

At our studio, we believe that yoga is for everyone. Whether you're seeking relief from physical or mental challenges, or simply looking to deepen your connection to yourself and others, we have a class that is suitable for you. Our professionally trained teachers are passionate about sharing the benefits of yoga with you, and our supportive community is always ready to welcome newcomers. Embrace the invitation and witness firsthand the uplifting power of a regular yoga practice.