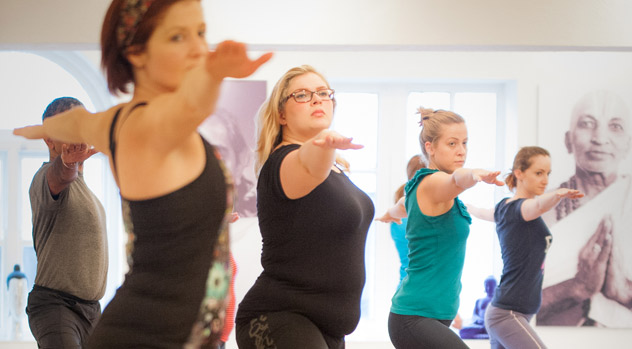 Some recommendations from our wonderful clients! 
"This is a very, very good yoga centre. I highly recommend it and if you have the time, book a private class with Mary…she is super, a great teacher and a lovely person. I am looking forward to returning next time I am in Ireland."
Christopher Brennan
Munich, Bavaria
---
"I've practised yoga in both Canada and Cork over the past few years! I joined Himalaya Yoga Valley in September and the one difference I see with yoga here, is no matter where you are in developing your own practice, you will always get personal attention by your teachers. They have classes to suit absolutely everybody. There is a really friendly vibe in the studios and the staff are great to mingle and make you feel at ease. The prices are really reasonable. I would definitely recommend yoga for men as it builds muscle strength and I have found it supported me in my pursuit of others sports!"
Dev Cudail
Cork
_____________________________________________________________________________________________
"Teacher Training with Himalaya Yoga Valley was a truly wonderful experience. Together with students from all four corners of the globe we bonded in our shared love and passion for the beautiful practice of yoga. Completing the curriculum took effort but the environment, staff and teachers provided me with the support and nurture I needed to see me through to the end. Not only did I graduate a competent yoga teacher but I also learnt so much about myself, and the type of yoga teacher I can be. Today, in each class I teach, I endeavour to pass a little piece of this wonderful experience on to my own students. I am so content with my direction in life as a yoga teacher. I have found my calling. Thank you Himalaya Yoga Valley."
Claire Mc Grath
Dublin
_____________________________________________________________________________________________
"I have nothing but the biggest compliments and warmest thoughts when it comes to Himalaya Yoga Valley. Not only is Lalit Kumar supremely talented and filled with insurmountable knowledge, he is humble and heartfelt making everyone feel truly special. The rest of the HYVC family is just as integral and knowledgeable in creating one of the most well rounded learning environments. Their love, care, and professionalism truly sets them apart!"
Erica Jing 
USA
______________________________________________________________________________________________________
"I attended physio weekly for neck, shoulder and leg pain weekly (sometimes biweekly!) since 2010, and I was quite worried about how my body would cope with my second pregnancy. When I was 16 weeks pregnant I started attending pregnancy yoga with Lisa at Himalaya Yoga Valley Centre in February 2013. By week 20, I stopped going to physio and kept regular attendance at pregnancy yoga. Not only have I found that this class has supported me physically throughout my pregnancy, I have also grown emotionally and spiritually, making me more aware of listening and trusting my own body. As my pregnancy nears an end, and my time at this class will finish, I feel empowered heading into labour.
I highly recommend Himalaya Yoga Valley Centre's pregnancy yoga class, as a supportive, positive and uplifting experience for any mother to be. Thank you Lisa for a wonderful experience, and being at the start of my yoga road."
Norma O'Brien
Cork
__________________________________________________________________________________________
"I started yoga in my late forties with Himalaya Yoga Valley Centre on the advice of a friend.  Although I had always maintained a reasonable level of fitness, I suffered from asthma which was allergy-driven.    Yoga has taught me how to breathe properly again and my asthma has improved dramatically.  My flexibility, range of movement and posture have all improved.  Yoga offers not just a great work-out but it also helps you find inner peace and calm.
The teachers at Himalaya Yoga Valley Centre are all professionally trained 'Äď they are warm, friendly, encouraging and patient in a welcoming space.¬†¬† Himalaya Yoga Valley Centre has classes for all levels (for beginners and upwards) seven days a week and these classes allow you to progress at
your
pace.  Regardless of your age, level of fitness or lifestyle, I cannot recommend  Himalaya Yoga Valley Centre highly enough."
David Madden 
Cork
———————————————————————————————————————————————————–
"As a Programmes Supervisor with RehabCare, I am constantly on the lookout for activities and tutors which embody the guiding principles and ethos of our organisation, central to which is that our service users participate in the life of their local community, with each person being valued as a worthwhile member of that community.
Having practiced yoga myself for a number of years, I was aware of the numerous benefits it has to offer and was keen to give our service users the opportunity to learn about it for themselves in a local, easily accessible venue. With this in mind, we began attending the New Beginnings Level 1 class in Himalaya Yoga Valley Centre. This was to complement our own self -directed yoga/relaxation practice which a number of our service users take part in on a weekly basis and which had proved popular. Initially it was with some trepidation that our service users agreed to attend as for most of them it was their first time accessing a yoga class outside of the service and they were unsure as to what to expect. I can safely say that from the moment we arrived at the studio we were made to feel welcome. All the Himalaya Yoga Valley Centre Staff, from the office manager, yoga tutors themselves right through to the proprietor were friendly and encouraging at all times and helped alleviate any fears or concerns people may have had.
From my own perspective, as someone working with people with disabilities/mental health issues, the 'Äėchill out'Äô room with its sofas and complementary herbal teas, was particularly useful as it allowed me to sit with service users prior to attending the class and explain in a calm, peaceful environment the appropriate behaviour/social mores around attending an activity in the community. Himalaya Yoga Valley Centre studio itself was spacious and comfortable and the New Beginnings class was pitched at a level that enabled our service users to meaningfully engage in the group. This served to greatly enhance peoples'Äô confidence around both their yoga practice in general and around attending a class in the wider community in particular, so much so, in fact, that our service users now attend classes at Himalaya Yoga Valley Centre independently.
Following on from the positive feedback from the New Beginning classes, it was decided that we would complement the community based sessions with an additional, in-house weekly class to be facilitated at our resource centre. These classes proved to be very successful and were instrumental in introducing additional service users to yoga including people using wheelchairs. The tutor provided by Himalaya Yoga Valley Centre to facilitate the class, Sarah Lyons, could not have been more empathetic and encouraging. Having a back ground in mental health nursing, it meant that Sarah has a great insight and awareness of the various needs of our service users and was able to tailor the class accordingly making for a physically challenging yet mentally relaxing class which proved to be very popular.
In conclusion, I would highly recommend Himalaya Yoga Valley Centre studio to anybody working in or using the services of, an organisation for people with special needs and I look forward to an on-going working relationship with the staff and management of the Himalaya Yoga Valley Centre studio."
Michelle Murphy
Programmes Supervisor
Rehabcare Bruach
—————————————————————————————————————————————
It would be hard for me to capture in only a few lines what an amazing time I had on the retreat in Moraymar, Spain, simply put it has altered my thinking on how 'Äėholidays'Äô should be spent. From the moment I was greeted at the bus stop by Maeve and introduced to my fellow yogis I enjoyed 7 days of pure bliss. The location, accommodation, staff, weather and food was superb. The yoga, pranayama, chanting and meditation were brought to a place I had previously not experienced and succinctly delivered by Lalit. All levels were catered for and in a relaxed yet challenging way. The first morning I woke after the retreat I woke up with a smile on my face. 10/10. Enough said.
Tim
Cork
—————————————————————————————————————————————
After 10 days of complete relaxation, far away from hectic life,¬†in this peaceful yoga retreat in Alqueria de Morayma, Cadiar (Spain), my batteries were completely recharged.¬† Meditation and pranayama followed by an asana practice¬†was the perfect way to start each day. The fresh air, the mountains, the quietness, the talks and smiles with the other participants,¬†the yummy vegetarian food (most of it locally grown), the freshly pressed juices, the chilling out¬†at the¬†pool, the funny kayaking experience,¬† the evening asana practice (which Lalit made¬†challenging but¬†fun and accessible for all levels), the quiet walks through peaceful nature, the stunning view over Cadiar at night time……ALL OF IT made those 10 days unforgettable to me.
Thank you to the Himalaya Yoga Valley Team for the hospitality and this beautiful and restorative experience. I enjoyed every single second of it!
Jacky
Switzerland