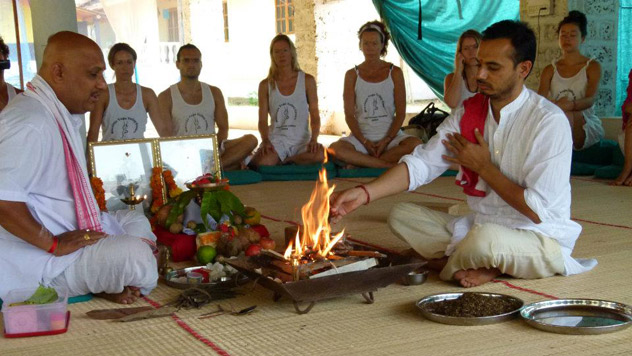 Himalaya Yoga Valley Centre was founded by Director and senior teacher Yogacharya Lalit Kumar. Lalit has been practicing yoga since the age of seven at traditional schools in India. He has been teaching internationally for over a decade. Lalit and the team at Himalaya Yoga Valley are passionate about delivering affordable, accessible and authentic yoga to everybody in Cork. Himalaya Yoga Valley is a Registered Yoga School with Yoga Alliance UK, Yoga Alliance US and the International Yoga Federation.
Our centre is a global leader in yoga education. We deliver the highest quality yoga Teacher Training Courses, Yoga classes and workshops at our schools in Goa, Dharamshala, Thailand and Ireland. Thousands of students have attended our schools and we have a reputation in the yoga world for delivering the highest quality yoga practices to the widest range of people possible!

We are delighted to carry on the ancient lineage of the Himalayas at our Cork Centre. With over a decade of experience we aim to deliver these traditional teachings in a modern setting.
Our schools rich lineage has spread from India to all corners of the world including Ireland. Over the past 7 years many Irish students have taken the journey to India to become yoga teachers under Lalits guidance. It is a great honour to see these students carry on the teachings at our centre in Cork.
Himalaya Yoga Valley is registered with Yoga Alliance UK, Yoga Alliance US, The World Yoga Council and The International Yoga Federation ensuring the highest professional delivery of traditional yoga practices.
Our Values
Improve well being, health and happiness through yoga
Respect the source of yoga and honour those before us
Cherish individuality
Love and protect the environment
Give back to through the gift of Yoga
Our Cork centre is ideally located in the city on Academy Street in a heritage building in the heart of the city.
We have a welcome area with free wifi and comfy seating. This is also where you sign in for your classes before you head into the studio. In this area we have a separate chill out room that has a mini yoga library and comfy lounge areas to relax before and after your classes.
Everybody is welcome at Himalaya Yoga Valley Centre Cork!
We have two beautiful renovated Yoga Studios for you to enjoy
These studio are where we hold more classes, workshops, teacher trainings and meditation classes.