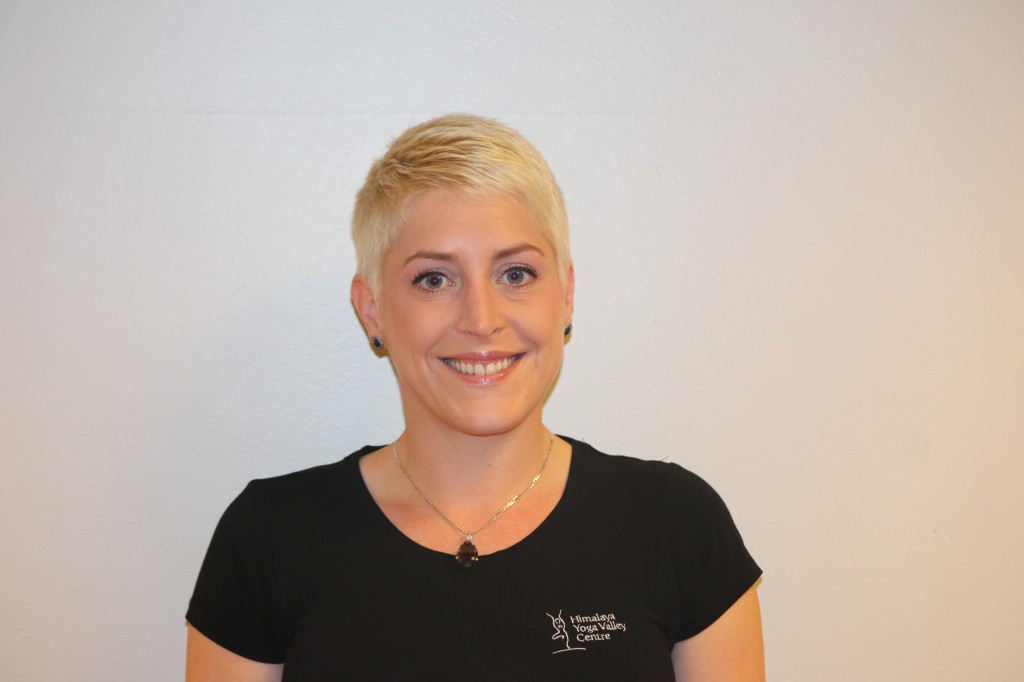 Elaine McAuliffe has been practising yoga for seven years and completed her teacher training in Cork in 2015.  A registered massage therapist, Elaine has been teaching at Himalaya Yoga Valley Centre for over a year.  Currently, she teaches New Beginnings Level 2 on Tuesday evenings at 20.15, New Beginnings Level 1 and Bridge to Peak on Friday evenings and all classes every third Sunday.
What was your path from practitioner to teacher? 
I've been practicing yoga since 2009. From very early on in my yoga journey I was visualizing being a yoga teacher helping people to receive the many benefits that yoga offers. I really believe that the universe presented the opportunity to train to be a teacher when the time was right for me. In 2015 I completed the 200 hour TTC in Cork. Since then yoga has presented many opportunities for my personal and professional development.
What is your favourite pose and why? Are there any poses that are difficult for you? 
I love Janu Sirsanana (head to knee pose). I always feel good and positive in this pose. Marichyasana C (seated twist with a bind) and Urdhva Danurasana (wheel pose) can be quite difficult for me. When my breathing is restricted it stresses me but I always challenge myself in these poses to take complete breaths as I know there is much to be learnt from being conscious in poses that I find challenging.
What's the most important thing yoga has taught you? 
I could write a book on all the things yoga has thought me. It has thought me patience, compassion, forgiveness for myself and others in my life. My confidence has grown allowing me to feel much more comfortable in my skin but the most important thing for me is the mind/body connection. When my mind and body are working as a unit it allows me to be more appreciative of the individual I am and reduces stress and tension from my body and mind.
How does your own practice fit in? 
The practice of self inquiry is constant. The more you do it, the more you are interested to do it. It's a practice you can do anywhere, anytime and the benefits are amazing. Practicing yoga offers a space to get to know yourself, your likes and dislikes and what makes you tick. This information is necessary if your seeking inner peace. On a physical level I try to attend as many classes at the studio as I can or I might do a self-practice at home but I do find it more difficult as my mind finds it harder to settle with household distractions.
What's one of the biggest misconceptions about yoga that you'd like to address? 
Yoga is not a women's gentle workout. Originally it was only practiced by men. A third of our clients at the studio are men.
Any gentle etiquette reminders you'd like to give students? 
Respect! Respect your body, the space that is available for your practice and all the other practitioners around you. Attitudes and behaviours are very contagious so be respectful and help us to maintain a serene environment for everyone to practice yoga.
What advice would you give to someone who wants to take their practice to the next level? 
Just do it. Often it's lack of confidence that holds us back but if you challenge yourself to advance in your practice it can help to boost your confidence. That being said, I would never advise anyone to bypass beginners' classes. Foundations are essential in your yoga practice and if you don't get the foundations that are offered in beginners classes your practice won't be as pleasant as it could be.
What would you like your students to take away with them after a class with you? 
Breathe! Conscious breathing helps to ease stress and anxiety, helps you to feel centred and grounded and offers more clarity of mind. Conscious breathing is another practice that can be done anywhere at any time and the more you do it the more you want to do it.