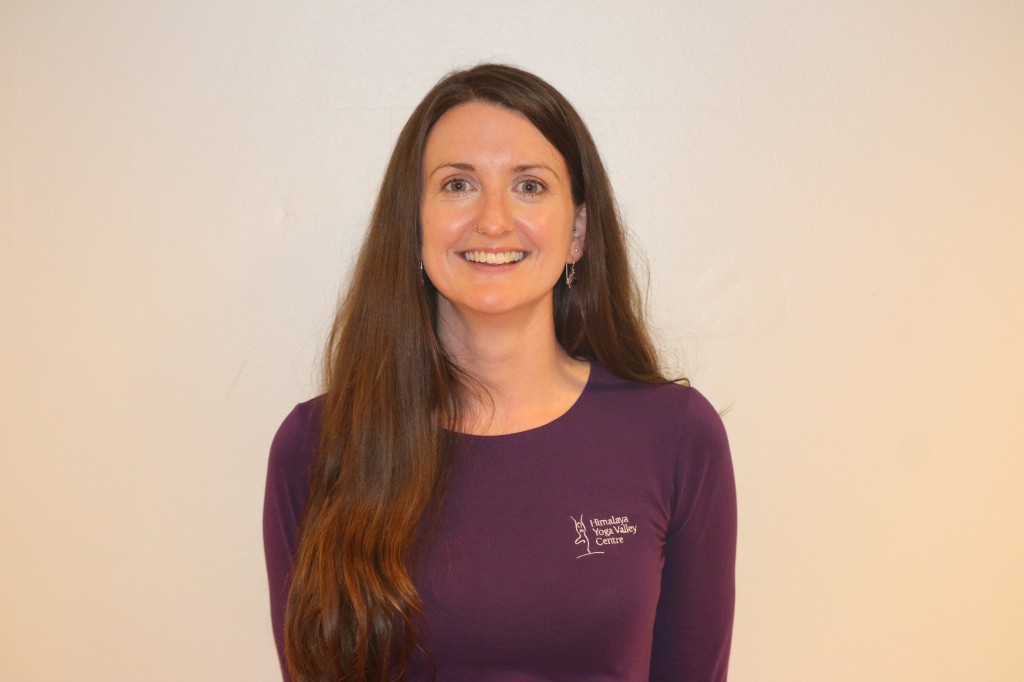 Claire Dunniece completed teacher training with Himalaya Yoga Valley Centre in Goa in early 2015 and has been teaching in the Cork studio for the past year.  A registered accountant, Claire also runs Prana Yoga Retreats with her husband, offering yoga holidays in Ireland, Poland and Spain.  You can find her in the studio teaching Gentle Glow on Friday mornings at 11.15 and New Beginnings Level 2, Gentle Glow and Bridge to Peak every third Sunday.
What was your path from practitioner to teacher?
I always wanted to practice yoga but like many people I didn't make proper space for it until  I needed something to improve my life. In my case it was to find stress relief and counteract excessive desk work. I began with going to a class once a week and quickly realised this was something I didn't want to live without.  Soon it was an integral part of my lifestyle. While travelling in 2012 I really deepened my practice by seeking out teachers wherever I went, when I returned Himalaya Yoga Valley had opened and I knew it was meant to be! I embarked on the teacher training in 2015 for the learning experience and fell in love with teaching.
What is your favourite pose and why? Are there any poses that are difficult for you?
My favourite pose is Urdhva Danurasana (wheel pose). It's such an invigorating pose to be in and is such a contrast to how we hold our bodies in daily life. I'm always in wonder at how the body can literally bend over backwards and I love how much energy backbends bring to us.  I have always struggled with arm balances. My Bakasana (crow pose) was earned over a very long time and involved falling on my face MANY times but now I get to smile every time I do it knowing the hard work that went into it!
What's the most important thing yoga has taught you?
Yoga has taught me how to rest and this has been invaluable to me. While the focus is often on the postures and what we can achieve with our bodies, what I have really learnt from my time on the mat is to slow down, release tension and simply breathe. We are so over stimulated by technology and fast paced living that many of us have forgotten how to truly rest. Our bodies and minds need proper rest more than we need to achieve a headstand!
How does your own practice fit in?
Every day is completely different for me, and my practice adapts to where my life is at any given time. My focus might be more on the primary series or restorative practices depending on what my body needs. It is important for me to blend my self practice with attending classes also. I think teachers should remain students at heart.
What's one of the biggest misconceptions about yoga that you'd like to address?
That flexibility is a prerequisite. This is without a doubt the most common myth. People come to the mat for so many different reasons, flexibility is only a by-product of the practice. Yoga gives you so much more than the ability to touch your toes.
What's the most memorable thing that's ever happened in your class?
There have been many great moments with students such as when they achieve a tricky pose for the first time or silly moments when I say the wrong body part and accidentally ask them to do the impossible.  I once had a fire alarm go off during an extended savasana that was a terrible shock for my poor students!
Any gentle etiquette reminders you'd like to give students?
Mobile phones in class! It's easy to forget, we've all done it, but they must be switched off. The only vibration we want to hear in class is the sound of Om. 🙂
What advice would you give to someone who wants to take their practice to the next level?
Sometimes in order to progress we actually need to get back to basics. For example ensuring we are moving safely and correctly through the Sun Salutations is going help to develop the strength required for some of the more advanced postures. It's easy to overlook the Sun Salutations as they go so fast during the class but breaking each element down can really help to assess where you are in your practice.
How do you see the future of yoga?
It is terrific how more and more people are incorporating yoga into their daily lifes. I think we are going to continue to see this happening, the western lifestyle needs it! We need ways to facilitate more balance in our lives and yoga provides that. Seeing how many people attended Yoga in the Park this year is just a testament to how people are embracing it.
What does a typical day look like for you?
Every single day is different as my teaching schedule varies on times and locations so I am always racing around somewhere. One thing that is always the same is that my practice of pranayama is the very first thing I do. The breath is so powerful and taking a few minutes to practice three part breathing or nadi sodhana before I do anything else can set the whole tone of my day and keep me grounded.
What's your favourite destination?

My favourite place in the world is Gili Air in Indonesia, this is as close to paradise as it gets!
What would you like your students to take away with them after a class with you?
I always hope that my students take away a sense of pride in themselves and contentment in their bodies after class.  It's not always easy to show up but yoga is such a great gift to give to yourself. I encourage everyone throughout the class to release any tension or stress they may be holding. Afterall the reason we practice yoga is to feel better so by the time you come up out of Savasana at the end you should be feeling really great about yourself!